We all know that setting up a bricks-and-mortar retail store takes a lot of time and effort. Even though it seems like a simple thing, it is true that a similar – and sometimes just as complicated – process applies to an online store. Ecommerce stores are far more involved than normal websites; they need to:
outline your products,
get the details of your customers,
accept payment,
manage refunds,
integrate with your backend stock management systems and
accurately estimate delivery times and costs on the spot for individual orders.
The next six articles in this series will walk you through the basics of Online Shopping including shopping carts, payment gateways, best practice design elements, marketing tips and more.
Just under $40 billion of sales are expected to be made on Australian ecommerce stores in 2013 and future growth is predicted to be phenomenal.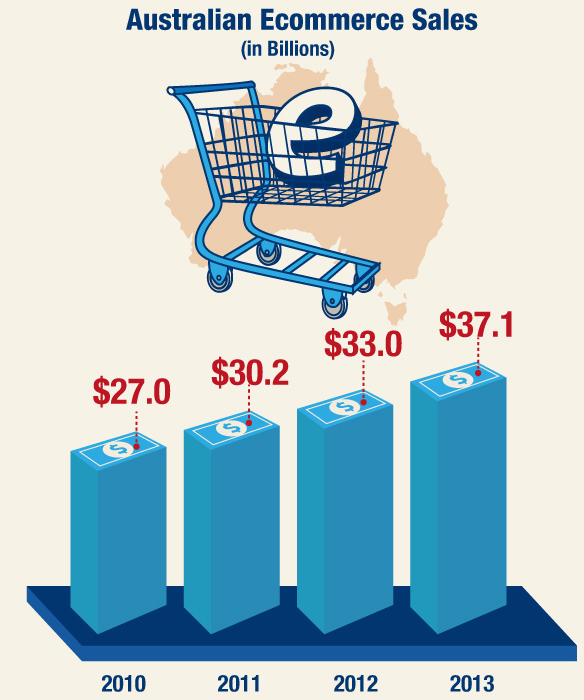 What are the important elements of an eCommerce website?
Product Catalogue
Your product catalogues are like the shelves in a bricks and mortar store. Because placing all your products in one lump on a web page would be very confusing for a consumer, product catalogues are typically broken up into three levels:
Category: like rows, aisles or shelves, categories group like items together for easy locating. A women's store may have shoes, jewellery, skirts and coats. A book store may have Fiction, Travel, Cooking and Young Adult.

Summary: so that a consumer can quickly browse relevant items, all products will usually have a summary consisting of a small size picture, the headline and important details about the product including the price. These summaries are typically displayed side by side so that a consumer can compare the details next to each other.
Detail: When a consumer is interested in a product, they will want more detail on it. This is typically a full page dedicated to the product with an expandable image and large paragraph with lots of details.

If this is your first time developing an ecommerce site, think through your products now and decide on some groupings and categories that would be appropriate.
Shopping Cart
The shopping cart is where items the shopper has selected are placed. They can review them, get an estimate of how much delivery will be and put any notes to you the seller. When an online store designer speaks about the shopping cart, he is referring to the software that takes customers and their items all the way to payment.
Payment Gateway
Just as with a bricks-and-mortar store, where a payment machine is different to shopping carts used by customers, an online store must have a 'payment gateway' set up to accept payment. There are many different payment gateways to choose from, perhaps the most famous being Paypal.
Delivery
All online shopping websites include the cost of delivery in the final price. Depending on how complicated your delivery pricing system is, this can be simply a selection of the customer's preferred delivery method or a full calculation of weight and delivery time.
Surrounding each of these elements are the marketing processes including good design and conversion strategy. We'll be exploring each of these elements in detail over the next few weeks in our Online Shopping 101 Series.
For updates join us at Google+