What is Cloud Computing
Cloud computing is computing resources, like files and software programs, delivered over the Internet instead of sitting on your computer. Normally, for companies get access to the latest technologies, they would need to invest heavily in expensive infrastructure, maintenance and support costs. In the cloud that is taken care of by dedicated experts and delivered  to your business through 'the cloud'.
Cloud computing is changing the IT landscape and how users access and use technology. It allows you to outsource some or all of your IT concerns, leaving you free to focus on what you do best – running your business.
Did you know
The term Cloud in Cloud Computing comes from the use of cloud-shaped symbols as a border around complex infrastructure system diagrams.
The public cloud refers to services available over the public internet and a private cloud is services created for a particular client.
The most common types of cloud computing are

Software as a service (SaaS) such as hotmail, gmail and Google docs
Platform as a service (PaaS) such as windows azure or Google app engine
Infrastructure as a service (IaaS) such as Amazon Cloud Services

The cloud is a metaphor for the internet and includes any content you access outside of your office network.
Onsite IT Infastrucutre (without the Cloud)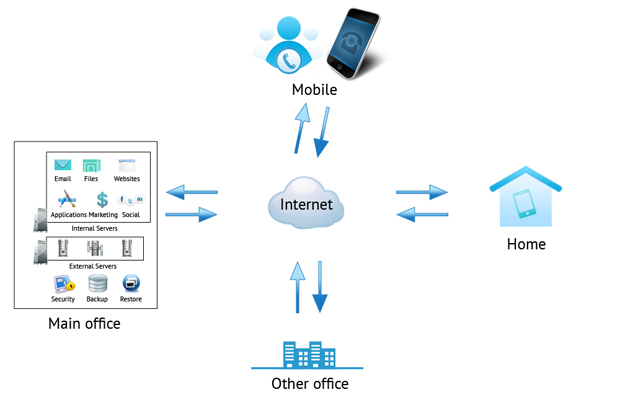 Pros:
More control because everything is stored onsite
Improved privacy for highly sensitive data
Cons:
Requires large up front capital
Requires ongoing maintenance costs
Technology needs to be replaced every 3-5 hours
Requires in house IT staff to maintain
Cloud IT Infrastructure (with the Cloud)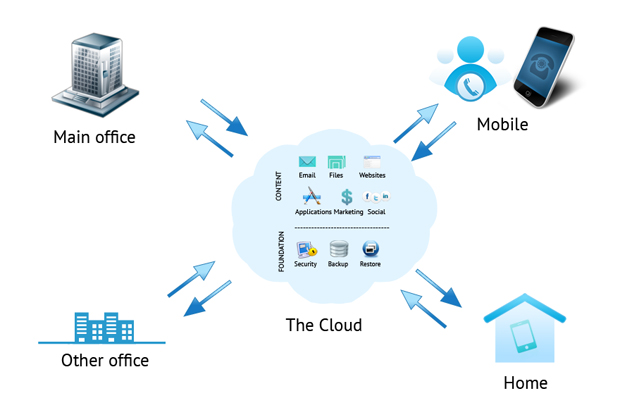 Pros:
Cost effective
Better accessibility by mobile devices
Higher quality services
Improved security and backup
No more software licensing
Cons:
Less control over environment
Reliant on a quality internet connection
Cloud computing offers the following benefits:
share resources easily because they are accessed over the internet
rapid scalability, up or down depending on your needs
available on demand. Pay per use rather than buying racks of servers,
are available anywhere on all devices including PCs, tablets and Smartphones.
You have probably already used cloud computing services for your email; Hotmail and Gmail are examples. Instead of running an email program on your PC, and potentially losing all your emails if you lose your PC, you log into the email service from any device with internet access even a friend's computer. The software is not installed on your computer nor are emails stored on your PC; they are stored in the services' cloud. Cloud computing means you are no longer reliant on your PC for these types of services.
Companies large and small are currently moving away from managing their applications and data in on site servers or on users PCs. They are moving towards managing applications and infrastructure in the cloud and having it available to users through the internet on any device from any location. Complete Cloud provides cloud services, including everything you need for your online success. Pricing is very competitive and you only pay for what you use.