If you've already seen mistletoe dangling and fake snow dripping in shop windows, maybe you rolled your eyes and thought 'It's only October!"
But bricks-and-mortar shops are aware of what online web store owners are only just starting to realise.  October turns into November in just four short weeks and then it's only a few deliverable days till Christmas.  If you haven't started to implement – or even plan – your online website's response to the high spending of the Christmas season, don't worry.  It's not too late but it is time to get started!
1. Spend time and money
Traditionally big stores spend hundreds of thousands of dollars on Christmas marketing.  It's very unlikely you'll be spending that much but prepare yourself that taking advantage of the Christmas bulge requires extra effort on your behalf.  The retail stores that get the most out of the Christmas rush are those who put the most into it.
2. Boost your landing page
The most important place to love on Christmas is your landing page.  Check out some examples of beautiful Christmas landing pages below.  They excite the browser for a wonderful Christmas experience. How can you spread the Christmas cheer through your home page?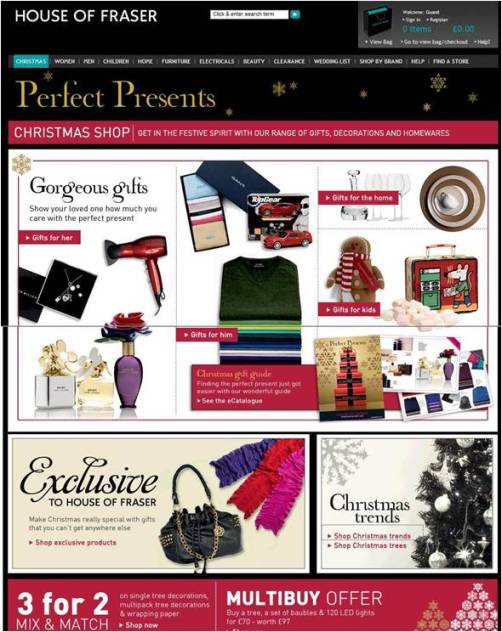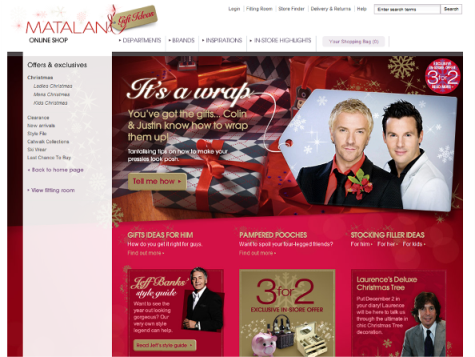 3. Include the word Christmas in your website
Boost your rankings in search engines and connect with customers looking for Christmas present ideas by using the word Christmas in your website copy. "Dad will love these socks for Christmas' for example. Don't forget meta tags and headlines!
4. Add in a special 'Christmas' tab
People really need ideas when it comes to Christmas so help them out and put a collection of your best products in their own little section. This is also the place to dress up your website with some Christmas decoration. Your online store software should make this task a simple and easy one.

5.Send out Christmas eNewsletters
Draw up 3-4 different eNewsletters as part of your email marketing plan and map out when you will send them. Ensure each one is different from the other and attempt to target a particular niche within your customers. As it gets closer to Christmas, emphasise your ability to take orders at the last minute.
6.Include a countdown
Delivery is hugely important in the run up to Christmas so make sure you prominently display the last date you can guarantee delivery by. And ensure you can guarantee delivery by Christmas if you do receive the orders.
7.Offer free shipping
Many customers shop online to avoid the hectic crowds in the physical stores. Their only barrier – cost of shipping. Remove that barrier by offering free shipping for orders for delivery in December.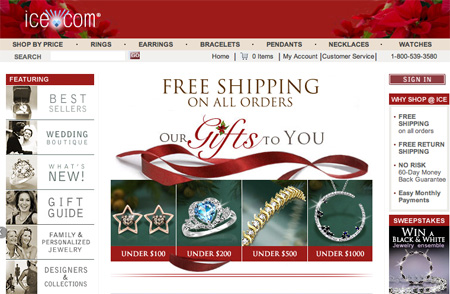 8. Look after your VIPs
Your VIPs are the ones most likely to buy from your store during the Christmas period. Entice them in with special offers that increase the value of what they buy (rather than discount products they probably will buy anyway). Show them how they can buy all their Christmas presents in the one place or find that perfect something for that person who has everything.
9. Marketing Ideas
Offer a sales voucher with every Christmas present valid for spending in January. This will give the buyer added reason to get their presents through you – they can give the voucher or spend it on themselves; either way you will boost your January sales.
10. As always… create a great customer experience
See our tips here for ensuring you provide ecommerce solutions that impress and wow your customers. If you haven't sorted out your in-store experience, now is the time to get it done before the Christmas rush.
If updating your ecommerce web design for the Christmas season is giving you a headache, let us do it for you.