Online retail is seeing strong growth in Australia, according to a recent study by NAB, reaching $10 billion of sales in a financial year. 70% of all Australians have been online to make a purchase from local retailers sometime in the past 12 months. While this still only represents a total of 6% of the entire retail market in Australia it is clear that consumer confidence with online purchasing is growing. Transitioning of retail functions to the Cloud makes setting up robust and relevant online retail stores easier, prompting many retailers to go online for the first time or boost their online presence.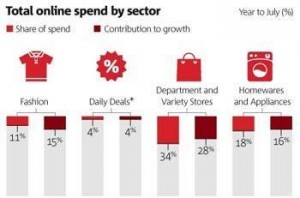 Local Online Sales in Australia Strong
As the above image shows, more than a third of all retail sales are from the online platforms of large department stores such as Dick Smith, Officeworks and Harvey Norman. These electronic and stationery giants have all invested significantly in their online platforms over the past few years, recognising the importance online shopping plays in the current retail landscape and the growing significance of a seamless web purchase experience in the success of retail.
It seems Aussies are loyal to local retailers as well, with only $4.1billion of sales spent with overseas providers. However, local businesses see a greater chunk of sales closer to the Christmas period, with turnover stagnating in the months of January to April while foreign markets continue to grow. It may be that the deadline of Christmas encourages localised shopping in order to take advantage of the shorter shipping times.
Moving Online Is Simpler With The Cloud
The shift of a large chunk of online retail functions to the cloud was inevitable. A few years ago, setting up a retail outlet required investment of tens of thousands of dollars in cash registers, space and staff to man opening hours, regardless of whether customers were actually shopping or not. Today, the process of creating a platform that allows customers to virtually browse products and buy them is much simpler, thanks to cloud computing and web based software.
Online stores are now able to create meaningful customer experiences and offer products for a fraction of the cost that even large retail stores can provide. Cloud services are levelling the playing field for many retailers, allowing boutique and start up retailers access to high quality ecommerce solutions at a fraction of the cost that would have been needed to invest a few years ago. Traditional 'offline' capacities such as stock management, loyalty systems and report generation are now tied together in the one system, seamlessly integrating online and offline.
Online Retail Is Reversing The Retail Success Pattern
The process of setting up a new online retail store is so simply powerful, in fact, that some stores are reversing the trend of transitioning bricks-and-mortar to online by acquiring such a positive online presence that they feel the need to open a bricks-and-mortar store in support. For instance, Warby Parker, an online glasses store, has recently opened a physical 'try-on only' store. Glasses are still ordered and shipped directly to the customers' house to avoid duplicating shipping and logistics processes.
There are a number of new models emerging across the online landscape. It's important for businesses, large and small to work out how they fit into this brave new world if they are to survive. This is as important for David Jones and Harvey Norman as it is for a start up retail shop, particularly as the introduction of cloud products means a smaller retailer can have just as strong an online presence as the big department stores.
If you need help setting you're your online store, Complete Cloud can help design and build a ecommerce solution that works for your business.