2014 is the year Facebook will turn 10 years old. A decade after the founding of what is currently the largest social media network in the world, it's a good time to take a look at the social media landscape is changing and consider how it impacts your online marketing strategies.
Who's Using Social Media?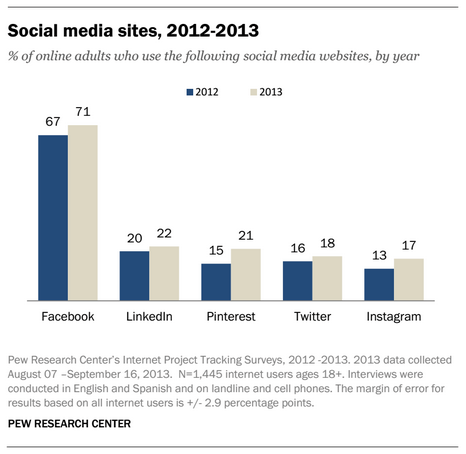 Almost everyone is using social media. According to a recent few Research Centre report, 73% of the world is on some sort of social media platform, with Facebook topping out at a total of 71% of the US population.
Most Popular Platforms
Competition has increased for social media as well with nearly half of the population on more than one platform.
The biggest news for 2014 is that Pinterest, the image-sharing platform, has taken out Twitter to take the number 3 spot, second only to the 'professionals' network – LinkedIn.
22% of respondents using a social media platform didn't use any of the five surveyed, which notably Google+ was excluded from.
How Often People Are Using Social Media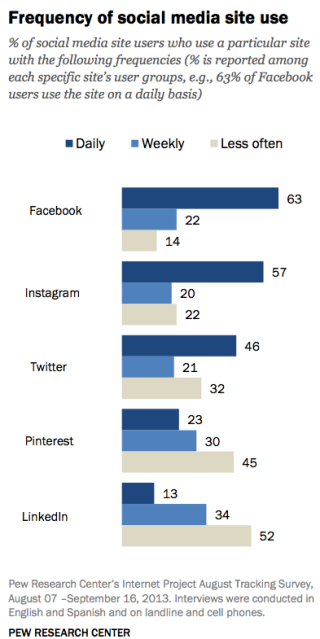 Facebook again wins on the frequency front, with 63% of users logging on daily. Instagram – owned by Facebook – was next in popularity at 47% of users logging on daily.
While Pinterest has grown in number of users, it still has a fairly low rate of daily visits at just 23% of its database. LinkedIn was the least frequently visited (just 13% of users) who are perhaps the job seekers.
Who Uses It
Facebook is again crowned king when it comes to demographics; it boasts the widest reach of any of the social networks. Pinterest appeals primarily to women while LinkedIn attracts college graduates and high income households. Twittter and Instagram have similar users; young adults and urbanites.
What This Means For Your Online Marketing
If you're not on Pinterest yet…


If you target women in any shape or form, you need to be on Pinterest. Even service-based businesses can benefit from Pinterest, especially since features like Notes and Maps were added as potential pins.

Fresh Talent Comes From LinkedIn


If you're looking to attract interns or college graduates to your organisation, you need a presence on LinkedIn. Set up a company page and keep it updated with relevant information about your company culture and future plans.

Facebook Is King


Not only did Facebook win on every measurement, it covers the majority of users connecting with a social platform. Of people who only use one site, 84% of them use Facebook, with the other sites boasting only between 2-6%. If you're not on Facebook, or using it for advertising, it deserves serious consideration in your online marketing mix.
Find out which social media platform is right for you by talking to the online marketing Complete Cloud Experts.