In this series we've run through the basics of Pay Per Click Marketing, starting with clarification of some of the most common terms. Coming up we'll be outlining the three-step process required to optimize your Google adwords management so it generates sales for you.
First it's time to look at the advertisement you're writing. In theory, it's simple to advertise on Google. If you've done it for about two seconds though, you know it's a lot more difficult than just following some steps.
What makes great PPC Advertising?
Customers notice it
It gives the customers information they need
It encourages customers to click on it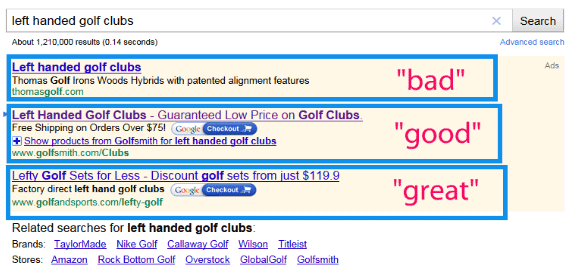 How can you write advertisements that do the above?
Know What Your Customer Wants
There's no point advertising the incredible quality of your travel bags when this customer just wants the cheapest on the market! What is it about your product that makes your customer want to buy it? Remember, you only have a sentence or two. Awareness of your target market is key to success.
Include as many keyword phrases as possible
A PPC advertisement will usually show up in searches from more than one keyword. For instance, one customer might see your ad because they looked for 'wood dining tables' and another will see it because they looked for 'mahogany dining set'. Pick the top two or three keywords your ad is showing up for and include both these phrases in the advertisement. Customers are more likely to click on an advertisement using the phrase they themselves used to perform the search.
Make the headline longer
The longest headlines stand out and get attention. Why? The headline is the first piece of information a customer reads. It's in a different colour (blue) and is usually underlined. When it pushed out towards the side, even if it's in the middle of two other advertisements, a longer headline will draw attention. Plus, you are providing more, relevant information to the customer.
Include sitelinks

Sitelinks are mini hyperlinks with the titles of your web pages. Sitelinks are great for two reasons. A) they allow your ad to take up more space on the page and therefore getting more attention. B) they give the option for your customer to click straight to the relevant web page resulting in higher conversions.

Send the customer to a specific landing page
Links that show that the customer will arrive exactly at the page they need typically tend to get more clicks. A customer is more likely to click on a link that shows there is a dedicated page to what they are looking for. This means that if you are targeting someone looking for 'plastic chairs', you should send them to a page with a url like 'www.furniturecompany.co/plasticchairs'.
Highly targeting your landing pages results in better conversion rates. Think about it; if you're a customer looking for plastic chairs are you going to buy one from a website that makes you search through their categories (Chairs, Office, Plastic…) or one that immediately shows you pictures of their products and gets you browsing?
What other tips have you found useful for generating great ppc advertising? In our next article we discuss how to spend your PPC marketing dollars.
If you're struggling to get results, call our pay per click marketing experts for help.
For updates join us at Google+