If you grew up watching television shows, you will one day be the grandparent reminiscing about a device no-one remembers using or gathering around of an evening with microwave dinners on cushions…
You will see alot of buzz words in the media relating to cloud computing and cloud solutions. These include service like web based software or cloud software, cloud storage for managing files or cloud backup for backing up data.
The number of people consuming media and services through the cloud on digital devices – that is, devices that use the internet rather than radio or television waves – has now overtaken the number of people consuming media the traditional way. This means that, instead of flicking on a television for the evening news, a busy businesswoman is as likely to have already read about it through her smartphone on her morning commute. If one of the stories interested her, she'd pop open her tablet and consume directly the information she wants to know about, maybe while sitting at her kitchen table or out on the balcony with a glass of wine.
The diagram below from shows media channel changes clearly trending away from traditional media towards digital media;
| | | | |
| --- | --- | --- | --- |
| Medium | 2010-2011 | 2011-2012 | 2012-2013 |
| Digital | +20% | +19% | +16% |
| Television | +4% | +1% | -3% |
| Radio | -2% | -2% | -7% |
| Print | -12% | -14% | -16% |
In 2012, the average US adult spent 4.38 hours per day watching television and 4.38 hours per day on their digital devices. This year, the amount of time spent watching television decreased while digital device usage continued its upward trend to 5.16 hours a day of usage for the average American. Radio and print have also continue their downward slope as more and more consumer abandon paper and analog for streaming.
Magazine circulation has been declining by 1-2% since 2008 while newspaper revenue have dropped a whopping 50%. This change in consumer behaviour has long been forecast by futurists and the industries affected have been scrambling to adjust and change their business models to accommodate for the digital revolution. Almost all newspapers or magazines are now available in digital format, although over 140 newspapers have gone out of business in the past 5 years. Not everyone is surviving the rapid change.
The way we discover news is also changing. A third of all adults under the age of 30 discover their news through social media platforms; articles friends have shared or Facebook pages and Twitter accounts they follow. A third still preferred the television but only 13% read print or digital newspaper content.
Smartphones and tablets are becoming second place and replacing laptops in the home. The diagram below from the kiss metrics blog shows mobile device growth in recent years.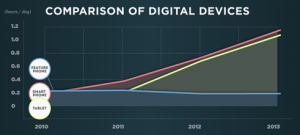 As mobile technology grows in acceptance – more smartphones than feature phones were sold for the first time in 2013 – the growth of consumption of information through the internet and mobile devices will only continue and the use of traditional media like television and radio will exponentially bottom out until they become relics for museums and stories at our children's Christmas barbeques…